Volunteers are the cornerstone of the recessROOM – we couldn't exist without you! And with that fact, we will match EVERY hour someone volunteers with a FREE hour of play to a family who needs it. Read more about our hardship coupon  and volunteer power hours. 
Help us bring the fun to play deserts in the Cleveland area (and soon in other cities). Choose a role that best suits your passions.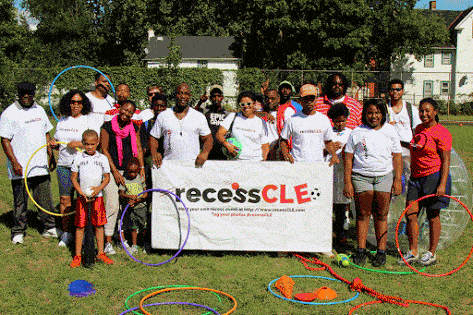 It would also be great if:
The more volunteers we have, the more we can do!
Recess Cleveland offers a wide variety of individual activities and team games that require a lot of people to teach participants how to use the equipment and play the game and to offer encouragement to the people we serve. The more people we have, the more games we can play, the more individual attention we can offer to the participants who need it most.
Safety and fun are our biggest priorities.
Volunteers make it possible for Recess Cleveland to meet our goal – providing a safe, fun environment to promote play for adults and children. The more eyes we have on the play area, the better we can ensure everyone is having fun and staying safe.
Teamwork benefits everyone.
Our volunteers work as a part of a team. Working together makes us a stronger team – we learn about one another, watch out for each other, and we play together.
Your support brings more energy to Recess Cleveland.
We all bring something different to the table. Some people are better teachers, learn more here, others are better at resolving conflicts. Some volunteers immerse themselves in the team games, others prefer to work with participants one-on-one. Having volunteers work where they really shine brightest is what makes Recess Cleveland such a huge success!